Just Add Color to your next Party! Your Next Outdoor Party Will Be 10x More Fun With Color! The Just Add Color Mega Pak includes everything you need to add colorful powder games, color dances, color crafts, color photos and color experiences to your next party.

Every party is more fun with color...birthday parties, half-birthday parties, church parties, team banquets, surprise parties, graduation parties, gender reveal parties to name a few.

Get One-Time-Only Discount, Two Color Blasters (For FREE), Money Back Guarantee and Shipping (For FREE) When You Purchase Your Just Add Color Mega Pak Right Now!
Was $150 Just $75!
The kit is suppose to include the following:
Just Add Color Mega Pack Includes: Total Value: $180
a.) Ryan's Ultimate Color Party Guide
b.) 5 Lbs Of Purple
c.) 5 Lbs Of Pink
d.) 5 Lbs Of Blue
e.) 3 Powder Paintbrushes
f.) 6 Color Bonkers
g.) Bonus 2 Two Free Color Blasters
I received the kit in exchange for a review. I was disappointed as I did not receive the Paintbrushes and color blasters.
The weather here is cold and wintry. It is currently too cold to have a party so I will be reviewing this kit as soon as the weather permits and will update my review at that point.
The colors are very vibrant and it does look like it will be a fun activity.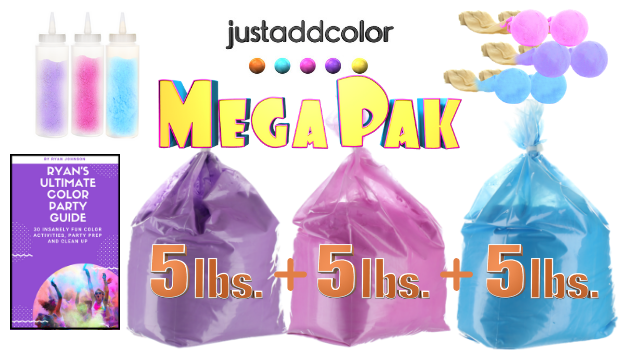 For More Information and to Get the Party Started: https://www.justaddcolor.com/order